Pri-Med Introduces New Online Platform – Personalization Drives Patient-Centered CME
New Learning Portal Uses Data to Help Providers Maximize Time Spent on CME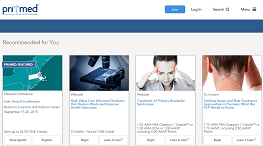 BOSTON, MA, September 10, 2015 -- Pri-Med, a trusted source for professional medical education to over 275,000 clinicians since 1995, today introduced the new Pri-Med Online (www.pri-med.com), a 24/7 medical knowledge resource for clinicians. Accessible via desktop or mobile devices, Pri-Med Online uses advanced analytics to match registered users with recommended educational content based upon their clinical practice, preferences and demonstrated (system) behavior.
Pri-Med Online is the second in a series of data-infused learning resources Pri-Med is introducing as a part of its Precision CME™ platform. The goal is to help providers improve patient outcomes by targeting their continuing medical education (CME) activities on therapeutic areas that represent a need within their patient populations.
The new Pri-Med Online dashboard tracks both live conference and online CME course completions, progress toward annual CME requirements, and includes a tracker for credits completed outside of Pri-Med. Users can also search Pri-Med's vast library of medical knowledge using multiple filters and sub-filters, including by educational institution, faculty member, and more than 20 therapeutic areas. Disqus technology enables learners to have a meaningful real-time dialogue with faculty and peers, replicating the interactivity of a live learning experience.
"Historically, Pri-Med has been known for its world-class educational conferences across the U.S. and exceptionally loyal provider-learners," said John Sheehan, President and COO, DBC Pri-Med, LLC. "Our online community is similarly substantial, with nearly 500,000 unique annual visitors and over 1000 CME completions per activity, on average. Pri-Med Online personalized learning technology allows providers to optimize their learning time, and is a natural extension to Pri-Med's live conference programs. Additionally, Accountable Care Organization providers will have access to Pri-Med Online personalized learning as part of the Precision CME platform, representing a new opportunity for Pri-Med to help clinicians provide the highest quality care for their patients."
About Pri-Med
Pri‐Med is an operating division of Diversified Communications. Based in Boston, Mass., the organization has been a trusted source for professional medical education to over 260,000 clinicians since 1995. Through live meetings in over 30 U.S. cities and online at www.primed.com, clinicians rely on Pri‐Med for opportunities to engage with local peers, meet internationally renowned faculty, and participate in world‐class educational activities. In 2012, Pri-Med purchased Amazing Charts, a leading provider of electronic health records (EHR) to independent medical practices. Amazing Charts operates as an independent operating subsidiary of Pri-Med. For more information, visit: www.amazingcharts.com.