Pri-Med Launches Personalized CME App for EHRs
Panel Insight™ Uses Patient Panel Data to Identify Care Gaps and Deliver Personalized CME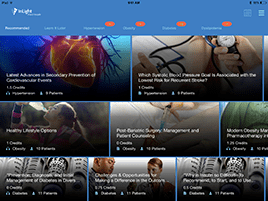 BOSTON, MA--(Marketwired - September 10, 2015) - Pri-Med, a trusted source for continuing medical education (CME) to over 275,000 primary care providers (PCPs), today unveiled Panel Insight™, an Apple iPad app linked to electronic health record (EHR) data, enabling personalized CME for treating clinicians.
Panel Insight™ is the first in a series of data-informed tools Pri-Med is introducing as part of its Precision CME™ platform, designed to help PCPs improve patient health outcomes in a rapidly changing healthcare environment. Using proprietary Learning Analytics™ (informed by patient panel data), the Panel Insight™ app matches individual PCPs with personalized learning recommendations from Pri-Med's deep library of evidence-based medical knowledge. Users have access to a rich feature set available on the homepage, including CME refresher courses mapped against upcoming patient appointments, clinical risk assessments across therapeutic areas, a CME tracker to capture completed credits relative to credit objectives, and benchmark reports presented via intuitive visual data.
By transforming the traditional 'top-down' CME process into a 'bottom-up' learning model used operationally by PCPs to help care for patients with chronic disease, Pri-Med is redefining how CME is created and used by clinicians.
Primary care providers are under enormous time and cost pressures, and Pri-Med is committed to providing knowledge resources that help them provide the highest quality care while maximizing performance within their practice," said John Mooney, CEO of DBC Pri-Med LLC. "We believe that data-informed, personalized learning is the natural evolution of CME, and that Panel Insight delivers more relevant education, offers greater convenience, and optimizes provider learning time."
About Pri-Med
Pri‐Med is an operating division of Diversified Communications. Based in Boston, Mass., the organization has been a trusted source for professional medical education to over 260,000 clinicians since 1995. Through live meetings in over 30 U.S. cities and online at www.primed.com, clinicians rely on Pri‐Med for opportunities to engage with local peers, meet internationally renowned faculty, and participate in world‐class educational activities. In 2012, Pri-Med purchased Amazing Charts, a leading provider of electronic health records (EHR) to independent medical practices. Amazing Charts operates as an independent operating subsidiary of Pri-Med. For more information, visit: www.amazingcharts.com.