Pri-Med Launches Complete Online Coverage of Live Events
Pri-Med has begun to make its Annual Conference CME sessions available in nearly real time.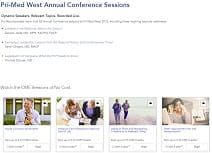 Boston, Mass., US–(Marketwired-June 15, 2018)–Pri-Med, a leading provider of continuing medical education for primary care providers, has begun to make its Annual Conference CME sessions available in nearly real time. Taking a cue from popular consumer sites that make exclusive conference content immediately accessible via digital platforms, Pri-Med launched over 50 taped sessions from its latest conference in Anaheim, CA, on Pri-Med.com within 48 hours of the event's conclusion. With the addition of these new webcast activities, Pri-Med.com now offers more than 350 total CME activities including patient case studies, expert perspectives, and virtual expert roundtables.
Building upon its unique multi-channel capabilities, Pri-Med also launched its third ConnectED Learning curriculum. ConnectED Learning is a comprehensive educational curriculum, offering a series of both live and online activities on a particular topic. ConnectED Learning begins with an online primer activity, establishing baseline knowledge, and continues with a live conference simulcast session. Three additional activities aim at deepening foundational learning and culminate in a final online session review with audience participation. Current ConnectED Learning series include diabetes, asthma and depression, with more programs planned for 2018 including influenza and COPD.
"The ways in which clinicians learn are evolving rapidly," said Rick Watson, Pri-Med's Chief Executive Officer. "At Pri-Med we are focused on delivering a high-quality educational experience that seamlessly combines our unique live and digital capabilities, ensuring that providers have access to the content they want, when they want it, and in the format that they prefer."
About Pri-Med
Pri‐Med is an operating division of Diversified Communications. Based in Boston, MA, the organization has been a trusted source for professional medical education to over 275,000 clinicians since 1995. Through live meetings in over 30 U.S. cities and digital activities at Pri-Med.com, clinicians rely on Pri‐Med for opportunities to engage with local peers, meet internationally renowned faculty, and participate in world‐class educational activities. For more information, visit: http://www.pri-med.com/about