Pri-Med Institute Receives Two NAMEC Best Practice in CME Awards for 2021
Leading CME Provider Heralded for Excellence in Collaboration and Educational Design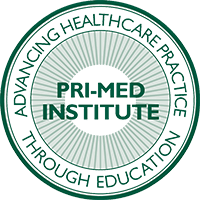 BOSTON — April 26, 2022 — Pri-Med, a leader in continuing medical education, is pleased to announce that the National Association of Medical Education Companies (NAMEC) recently recognized Pri-Med Institute, the accredited division of Pri-Med, as the recipient of two 2021 Best Practice awards.
The 17th annual NAMEC Best Practice in CME Awards recognize best practices — ideas or processes that can be implemented by NAMEC members to improve continuing medical education (CME/CE).
Pri-Med Institute, which received three awards in 2020, has again been recognized as a leader in healthcare education with two new honors for CME/CE in 2021:
"Best Practice in Collaboration Among CME Stakeholders" for the CME/CE curriculum Current Issues in Obesity: Stigma, Science, and Solutions, developed in partnership with the Obesity Medicine Association
"Best Practice in Enduring Material Educational Design" for Treating More Than Just an Itch: Updates on Atopic Dermatitis for the Primary Care Provider, a CME/CE curriculum that combines the principles of active cognitive brain science and artificial intelligence to provide clinicians with a personalized pathway to "mastery," developed in partnership with Amplifire Healthcare
"With our fifth NAMEC award in the past two years, we're proud to be at the forefront of developing relevant education that meets the needs of clinicians and their patients," said Mindi Daiga, vice president of accreditation at Pri-Med. "We'll continue to work with top-tier clinical faculty and education partners to develop courses that provide the latest medical insights, in the formats that best serve the primary care community."
Pri-Med will continue to deliver innovative CME/CE content with diverse course designs, including in-person conferences, virtual conferences, games, podcasts, and more.
About Pri-Med
Pri‐Med is an operating division of Diversified Communications. Based in Boston, Massachusetts, the organization has been a trusted source for professional medical education to over 330,000 clinicians since 1995. Through in-person conferences in cities across the US and online courses at Pri-Med.com, clinicians rely on Pri‐Med for opportunities to engage with local peers, meet internationally renowned faculty and participate in world‐class educational activities. For more information, visit https://www.pri-med.com.