Inflammation in Cardiovascular Disease: No Longer a Theory
Description
After implementing current guideline-directed medical management, there is still urgency to address residual cardiovascular risk. Among the drivers of residual cardiovascular risk, inflammation has generated considerable interest, first on the basis of preclinical and biomarker studies in humans. More recently, translation has inspired clinical trials in this domain. This presentation will consider inflammation as a process that links traditional and nontraditional risk factors to atherothrombotic events. It will review the status of current clinical trials with agents that target inflammation, including anti-cytokine therapy and agents such as methotrexate and colchicine.
Learning Objectives
Recognize the role of inflammation as a contributor to atherogenesis and its complications
Describe current thoughts about inflammation as a link between traditional and emerging risk factors and atherothrombosis
Discuss recent clinical trials that have established inflammation as a valid therapeutic target in atherothrombosis, and consider the current perspectives for clinical actionability
---
Speakers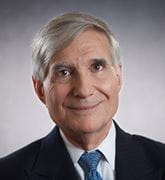 Peter Libby, MD, is a cardiovascular specialist at Brigham and Women's Hospital in Boston, Massachusetts, and holds the Mallinckrodt Professorship of Medicine at Harvard Medical School. He served as Chief of Cardiovascular Medicine at BWH from 1998 -...