NASH: The Dominant Chronic Liver Disease
Description
Dr. Chopra will provide an update on this dominant chronic liver disease.
Learning Objectives
Understand epidemiology of NAFLD and NASH and their relationship with Metabolic Syndrome
Define new recommendations to upper limit of serum ALT in women and men
Review the hepatoprotective effects of coffee and modest weight loss
Review recommendations for vaccination for Hepatitis A and B
Address the safety of statin use in patients with underlying chronic liver disease
---
Speakers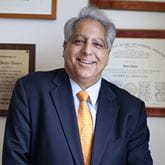 Sanjiv Chopra, MD, is Professor of Medicine and former Faculty Dean for Continuing Medical Education at Harvard Medical School. He currently serves as a Marshall Wolf Master Clinician Educator in the Department of Medicine at Brigham and Women's Hosp...