Lifelong Learning: A Look Out the Rearview Window and A Peek Ahead
Description
In this talk Dr. Chopra will reflect on some of the major advances in medicine in the last quarter century. He will highlight the role of serendipity and the recognition of their importance, with the awarding of Nobel prizes in certain instances. Dr. Chopra will share what he believes are the top stories in medicine, how they are playing out now, and how they will have far reaching implications in health, longevity, and indeed the future of the human race.
Learning Objectives
Reflect on the role of serendipity and major discoveries in medicine
Discuss how a radical concept that a bacterium in the stomach could cause peptic ulcer disease was proven to be right and led to the awardment of the Nobel Prize in Physiology of Medicine to Marshall and Warren
Innumerate five topics in medicine/biological sciences that are playing out now and will come to greater fruition in the next decade and change human life
---
Speakers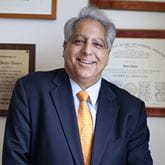 Sanjiv Chopra, MD, is Professor of Medicine and former Faculty Dean for Continuing Medical Education at Harvard Medical School. He currently serves as a Marshall Wolf Master Clinician Educator in the Department of Medicine at Brigham and Women's Hosp...