Geri-Duty: Let's Get Physical
7:30 AM - 8:30 AM
Room 200
Description
This session aims to refresh your knowledge and stimulate interest in performing a thorough and focused physical exam (PE), particularly in the geriatric population. Whether part of a Medicare evaluation or a routine office visit, the PE provides an opportunity to develop rapport, trust, and potentially to discover clinically significant findings that might otherwise have gone unrecognized. A series of brief scenarios will be used to illustrate important yet basic concepts such as differentiation between normal age-related findings versus indicators of worrisome disease processes and atypical presentation of disease. Now, Let's Get Physical!
Learning Objectives
Perform a thorough history and physical exam with refreshed interest
Differentiate normal age-related changes from potentially serious abnormalities
Describe differences between "Welcome to Medicare" and annual wellness exams
Discuss features of the exam that can impact quality of life and prognosis
Recognize common physical findings unique to an older person
---
Syllabus
Download a PDF of the presented slides
DOWNLOAD
Speakers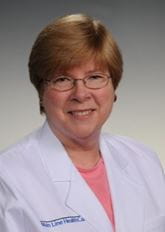 M. Susan Burke, MD, FACP, is a clinical associate professor of medicine at the Sidney Kimmel Medical College at Thomas Jefferson University in Philadelphia, Pennsylvania, an adjunct associate professor of geriatrics at the Philadelphia College of Ost...
Dr. Galluzzi is professor and chair of the Department of Geriatrics and director of Comprehensive Care at the Philadelphia College of Osteopathic Medicine in Pennsylvania. Dr. Galluzzi received her medical degree from the West Virginia School of Oste...