New Approaches to Manage ASCVD Risk beyond LDL-C
3:10 PM - 4:10 PM
Hall A, Level 1
Description
This session will review the new 2018 cholesterol guidelines and how to use them in clinical practice. Residual atherosclerotic cardiovascular disease (ASCVD) risk beyond statin monotherapy will also be discussed, along with new options to decrease risk based on recent cardiovascular outcomes trials results. The importance of assessing and managing elevated triglycerides in reducing ASCVD risk will be highlighted, providing clinicians with new strategies and pharmacological adjuncts to statin therapy that significantly improve management of their patients with or at high risk of ASCVD events.
Learning Objectives
Evaluate high risk of atherosclerotic cardiovascular disease events (ASCVD)
Describe major predictors of residual ASCVD risk which can remain despite guideline-driven statin monotherapy
Apply evidence-based guidelines and recent randomized clinical trial evidence to reduce residual ASCVD risk in patients with TG-elevation on statins
---
Sylllabus
Download a PDF of Presented SLides
DOWNLOAD
Speakers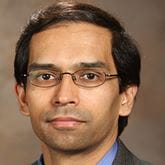 Deepak L. Bhatt MD, MPH, FACC, FAHA, FSCAI, FESC, is Executive Director of Interventional Cardiovascular Programs at Brigham and Women's Hospital Heart & Vascular Center and Professor of Medicine at Harvard Medical School. He is also a Senior Physici...
---
Educational Partners
Commercial Supporters
Amarin Pharma Inc.