9:45 AM - 10:45 AM
Hall A, Level 1
Description
This talk will review relevant approaches to the diagnosis and management of thyroid nodules in the outpatient setting.
Learning Objectives
Diagnose thyroid nodules based on clinical exam and imaging
Recognize risk factors and radiologic features of thyroid nodules that warrant further evaluation
Become familiar with management of thyroid nodules
---
Syllabus
Download a PDF of Presented Slides
DOWNLOAD
Speakers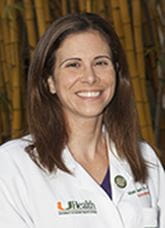 Dr. Lagari is Section Chief of Endocrinology at the Miami VA Healthcare System. She is Associate program director for the endocrinology fellowship program and Associate Professor of medicine in the division of endocrinology at the University of Miami...