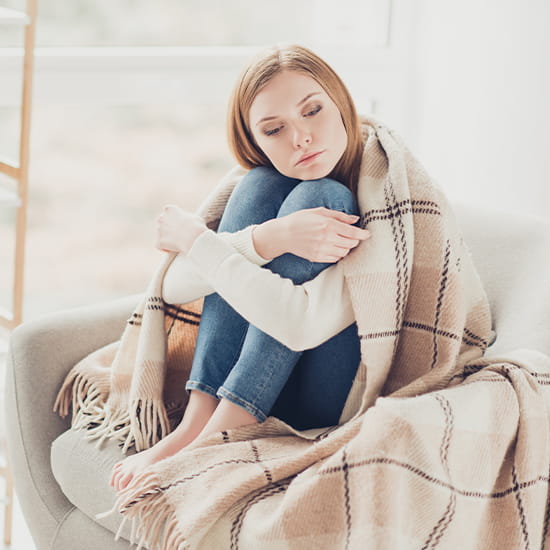 Podcast
Evaluating and Managing Perimenopausal Depression: No Small Task, Are You up for It? - Frankly Speaking EP 100This episode is a discussion of the recent summary and recommendations of an expert panel that conducted a systemic review on the published perimenopausal literature to identify, characterize and treat women in this population.
Guest: Jill Terrien PhD, ANP-BC

This episode is a discussion of the recent summary and recommendations of an expert panel that conducted a systemic review on the published perimenopausal literature to identify, characterize and treat women in this population.
CME Information
0 Credits - Not for CME/CE Credit
Release Date: 12/24/2018
Expiration Date: 12/31/2099
Topics
Faculty



Resources
Pauline M. Maki, Susan G. Kornstein, Hadine Joffe, Joyce T. Bromberger, Ellen W. Freeman, Geena Athappilly, William V. Bobo, Leah H. Rubin, Hristina K. Koleva, Lee S. Cohen, Claudio N. Soares, and on behalf of the Board of Trustees for The North American Menopause Society (NAMS) and the Women and Mood Disorders Task Force of the National Network of Depression Centers.Journal of Women's Health. https://www.ncbi.nlm.nih.gov/pubmed/30182804
American College of Obstetricians and Gynecologists, Clinical Guidelines on Management of Menopausal Symptoms, American Family Physician, Volume 90, Number 5 September 1, 2014 https://www.aafp.org/afp/2014/0901/p338.html



Transcript
Dr. Frank Domino:
Sharon is here for her annual exam. Specifically, she has been struggling for the last few years, with multiple symptoms that she assumes are related to menopause. She's 49
and she's not sleeping well, has intermittent hot flashes and feels exhausted all the time. She and her husband have three children, who are high school and college age and recently, her mother moved in with them adding to her stress. Where do we begin and end this visit? Hi, this is Frank Domino, Professor in the Department of Family Medicine Community, Health at the University of Massachusetts Medical School, and joining me today to talk about peri­menopause and in particular perimenopausal depression is Jill Terrien. Associate professor in the Graduate School of Nursing and the Director of the Nurse Practitioner program at the University of Massachusetts Medical School. Hi Jill.
Hi Frank.
Dr. Domino:
Well, Sharon, is very familiar to me and I'm sure she's familiar to you as well. What
challenges are... Is she facing right now?
Jill Terrien:
Sharon has a lot going on. So when we say where does the visit begin and end, really
what is Sharon's end game here, what's giving her the most... What's worrying her and what's making are the most uncomfortable? In particular, just looking at her profile, she's taking care of an elder she's bringing up children, she's got children leaving the house, which is an empty nest type of thing. She's mentioned work is stressful and then she's got sleep that is disturbed, along with hot flashes. So first, I wanna know how is she doing, how is she balancing and how common are her symptoms in a 24­hour period, so we can maybe get to some help for her.
Dr. Domino:
Great, so you're already starting to think, Alright, what can we do to try to help her?
She's got a great deal of stress as you point out, how do we know if she has pre­menopausal depression and how do we go about addressing it?
Jill Terrien:
That's a great question. So, a paper just came out that's looking at, that actually summarized some recommendations for women in the perimenopausal transition, gave a little credence to that it can start early and go late, like even into early post-menopause, even into a late state of early menopause, shall I say, and basically that women in this transition should be screened for depression. That's the main thrust of the recommendation. Also something that could be concerning is if your patient has had a prior major depressive episode, before peri-menopause they are more apt to be vulnerable to that during the perimenopausal transition. So one thing I am going to be asking Sharon about is possible depressive symptoms and I may have her fill out a questionnaire while she's with me. A PHQ-2, PHQ-9, a Beck Depression Inventory whatever you have available to you.
Dr. Domino:
So as you point out, she's having sleep difficulties, she's under a great deal of stress. She's having these intermittent and fairly uncontrolled hot flashes. She certainly got some reduced energy. So if you just look at her PHQ-9 she's got more than four criteria. And so she probably meets the diagnostic criteria for depression. What do we know about best ways to address perimenopausal depression?
Jill Terrien:
So how can we treat it? So if we know that there is... If the patient has had a depressive episode in the past and been treated with a certain agent, an SSRI, an SNRI and they responded well to it, there is good evidence that putting them on that medication again, if they had a good benefit before they'll have a good benefit from it this time. So that is one strategy. The other thing is to look at, "Is there any agents out there or classes that could possibly benefit Sharon in some of her other symptoms, particularly the vasomotor symptoms that can be very, very... Really affect the sleep.
Dr. Domino:
I agree, that sounds... If you can address both her depression, as well as her perimenopausal other symptoms that'd be great. What are our options?
Jill Terrien:
So we have pharmacologic options could be SSRIs or SNRIs, okay? There's some data out there on that also there are some non-pharmacologic options? Mindfulness, cognitive behavioral therapy, which we've talked about in other episodes. Not easy to do in one visit, and it's not a pill, it does take time. Other thing is exercise. Is she exercising? And will that help energize her, as well as help her relax at night and get a better sleep.
Dr. Domino:
Any change in diet that she should consider in particular, to address her hot flashes?
Jill Terrien:
Let's talk about the sleep disturbance, piece for a minute, alright? Caffeine, what's her caffeine intake, and what time of the day is she taking her last caffeine if she does drink, let's just say coffee? Could there be an adjustment there? Is there about... Eating meals, what's her diet like, and is she eating and then going to bed before like they recommend three hours of digestion? 'Cause that could also lead to her sleep disturbance. She has a lot going on, but I think that looking over her lifestyle to see where maybe some modifications could be made, because it's hard for people to change. So I think that even you listening to your patient and hearing... Yes, she has quite a bit going on. What can we tweak that's doable for her?
Dr. Domino:
Great, so we've talked about her depression, and her other perimenopausal symptoms, I can't help but wonder how about hormone replacement therapy? Would she... Would her depression get better if we put her on a hormone replacement pattern?
Jill Terrien:
Interesting... So this review, the summary and recommendations, this study did actually look at that. And they didn't find any conclusive evidence that having hormone therapy affected depression.
Dr. Domino:
Wow, okay, so we have good data that women are at risk for perimenopausal depression, especially if they've had a history of depression in the past. And they often... The Depression often appears with a variety of other symptoms. You've also mentioned that there's pharmacologic and non-pharmacologic therapeutics that we can try and that there probably isn't data that supports currently using hormone replacement therapy to treat the depression at least. Any final thoughts on what else we can give Sharon today?
Jill Terrien:
Well, I think the main thing is being able to tease out, because a lot of these symptoms that she has occur together, they overlap and it can become really complicated. So I think it's just kind of like helping Sharon understand where she can... Where she is able to have control over some of it 'cause I think the... Having a better sleep pattern is something that she may be able to do, but a lot of the other things going on are gonna continue to go on. And is there any help that can happen for her? She's the Sandwich Generation taking care of the parent bringing up the kids and trying to live a life with her, with her husband. So it's really a lot.
Dr. Domino:
It certainly is and it's great to recognize the fact that some of Sharon's issues are not gonna get better with a pill. We have to help her control, what she can. Thanks, Jill, this is a great, great solution for a very common problem.
Jill Terrien:
Thank you, Frank.
Dr. Domino:
Practice pointer: Perimenopausal women are at increased risk for depression. Use a validated tool to help identify depression, and help manage through this transition to menopause and beyond.