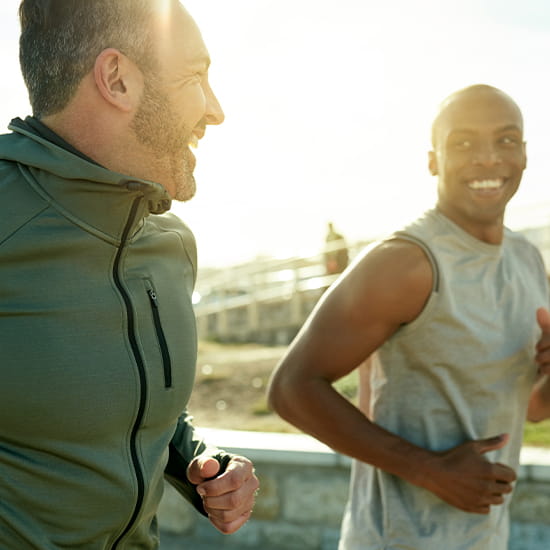 Podcast
The 2018 Physical Activity Guidelines for Americans: Get up and Go! More IS Better! Don't Give Up! - Frankly Speaking EP 101Health benefits and the potential lowering of healthcare costs by billions of dollars seem like enough reasons to increase physical activity. Why can't we do it? Why is it so hard? We'll discuss the new guidelines (11/2018) and strategies that may get your patients moving.
Guest: Jill Terrien PhD, ANP-BC

Health benefits and the potential lowering of healthcare costs by billions of dollars seem like enough reasons to increase physical activity. Why can't we do it? Why is it so hard? We'll discuss the new guidelines (11/2018) and strategies that may get your patients moving.
CME Information
0 Credits - Not for CME/CE Credit
Release Date: 12/31/2018
Expiration Date: 12/31/2099
Topics
Faculty



Resources
Piercy, K, Troiano, R, Ballard, R. et al. (2018). The Physical Activity Guidelines for Americans. JAMA. doi:10.1001/jama.2018.14854 Published online November 12, 2018. https://www.ncbi.nlm.nih.gov/pubmed/30418471
Guideline on HHS.gov with Provider and Patient Resources: Physical Activity Guidelines for Americans 2nd edition: https://www.hhs.gov/fitness/be-active/physical-activity-guidelines-for-americans/index.html



Transcript
Dr. Frank Domino:
Virginia is a 70-year-old woman bringing in her 14-year-old grandson for his annual physical and immunization update. Virginia is also your patient, and she has some concerns. She is troubled by the inertia she observes with her daughter, son-in-law, and their two children who are obsessed with their phones, don't eat meals together and have no form of exercise. She lives with them and wants to get everyone going. How much exercise should they all be doing, and what advice can you give her? Hi, this is Frank Domino, Professor in the Department of Family Medicine Community Health at the University of Massachusetts Medical School, and joining me today is Jill Terrien, Associate Professor and Director of Nurse Practitioner Programs at the University of Massachusetts Medical School Graduate School of Nursing. Hi, Jill.
Hi Frank.
Dr. Domino:
So we have some new guidelines on how to recommend activity and exercise for patients. Can you tell us what's changed and what we should be encouraging?
Jill Terrien:
Sure, so this is an update from 2008, so second edition of the physical activity guidelines, and basically, Frank, overall, we all know we should be moving and having activities. So they've been very specific in talking about various age groups. So, what's different is, they looked at all the evidence, they asked a lot of questions of what they found, and then they have given these guidelines that begin with children, age three, all the way up through older adults.
Dr. Domino:
Great, well, maybe break it down for us, by age group.
Jill Terrien:
Sure, so what they say, children age 3-5, really should be active throughout the day. So none of our timing guidelines or suggestions, but just active, active playing, active sports, active with their family. And then, the next age group was age 6-17, and what they're saying is, they should do 60 minutes a day of moderate to vigorous physical activity. So every day, 60 minutes. And then, the next group was adults, and what they say is 150-300 minutes a week of moderate intensity exercise or bump it up to vigorous intensity, and that would be 75-150 minutes a week.
Dr. Domino:
So those are the goals, that's where we should all be trying to get people towards.
Jill Terrien:
Exactly, and then let's not forget our older adults, they say that, depending... Age, chronic disease or even disability, do what you can to try and follow the guidelines, and of course, consult with your provider if you have any questions about what you think you can do. And then we don't want to leave out our pregnant women, because they find that they should do at least 150 minutes of moderate intensity aerobic activity every week.
Dr. Domino:
And that's safe in pregnancy?
Jill Terrien:
Yes. And the thing is, I would say, as a primary care provider in my pregnant patients, that if they have any questions, certainly consult with their OB.
Dr. Domino:
Okay, great, so these sounds like nice parameters, and they're evidence-based, and they did a nice job with this guideline. How do we incorporate this into practice? What if people can't make goals or are reluctant to make 300 minutes of moderate activity a day?
Jill Terrien:
Well, the data shows that 80% of us don't meet the goals now, so how do we get there? Why is it so hard when we talk about how many billions of healthcare dollars we can save, how many chronic diseases we can either number one, prevent, or improve patients' quality of life. Why is it so hard? And I think that people struggle with this every day, and so it's not losing sight of the fact that, okay, if today is not a good day, it doesn't mean that tomorrow that you might be able to change something. So I think that it's meeting your patients where they're at, knowing the community, and the resources where you live. And you also have to take into account, what is your population, do they... Financially, in where they live, what's available to them, and what can they do on their own. So what my main message is, everybody can exercise, and you just have to figure out what's the best motivation for them.
Dr. Domino:
Okay, so not everyone's going to get to goal. And in fact, as you said, most of us don't, but a little is better than nothing. And I think sometimes people forget that.
Jill Terrien:
Right. And that is actually something that they did detail in the guidelines, they talked about, even if somebody has not, let's just say they haven't exercised in years or maybe not in their entire life, because they don't like it, even if they do nothing and go to 10 minutes of walking a day. They found that the benefit is incredible, it's almost more beneficial in that type of a person, than it is that somebody has been exercising and now has to kick it up.
Dr. Domino:
Sure. I think that's very, very true. All of us have or many of us have smartphones, and many people have activity trackers. Any thoughts about how to encourage technology as a beneficial tool?
Jill Terrien:
Absolutely. So I think you have to pull out all your tools, right? So you have to think about what's going to work. If the person doesn't want to walk, or maybe they do like to walk. How far are they walking? 'Cause I think, when these activity trackers first came out, I jumped on the bandwagon and got one myself, so a day that I thought that I was really active, when I looked at the activity tracker, I'm like, "I am not that active." So first of all, it makes you more truthful and more factual to understand. So now I know that on a Wednesday, when I'm teaching and not in clinic, I don't walk a whole heck of a lot, so that, in my mind, that's the day that I do try to do something a little more active to do that.
So, I think activity trackers, apps on your phone, you can have alarms set that say, "Time to get up and go. We work in a big, big building. I can get up and go do a couple of laps around the center of the building for a quarter mile or half mile. But anyways, getting up and moving. So do you have stairs, and do you always take the elevator? Well, if you live in a multi-floor... If you work or live in a multi-floor building, 20 flights is difficult, right? But can you walk up one flight? Can you walk up two flights and not take the elevator? Changes like that. Other small changes: Parking your car far away at the mall, at the grocery store, anything that's going to motivate you to increase your activity, and it's talking with the patient to see what they're willing to do or could do to get their opinion.
Dr. Domino:
Alright, so that's the last question I have for you is, what kind of questions do we want to ask Virginia to help her figure out how she and maybe her daughter and their family can get more active?
Jill Terrien:
So Virginia's in... She's in the sandwich generation, so she's living in the home of her daughter, and she's helping raise her grandchildren. So this is, this is becoming a more common scenario. So Virginia is not just picking up the grandson and bringing him, she lives with him, so she knows what their daily routine is. So I think asking her, "What are you thinking?" She's asking you, she's telling you about devices. How much of an influence does she think she can have with her family? So I think asking her, "Do you have a thought?" You're talking about the devices, is there a conversation that can occur about maybe you shouldn't be on screen time? Or talk about it in the fact that you've visited the doctor's office, and this is what they recommended, and you can kind of blame it on the provider. I don't mind being blamed for that. Or is it something like, "Can we get out and walk every afternoon when you get home from school, even if it's just around the block?"
Dr. Domino:
So, help her try to understand what may be some things she can do and also maybe ask her a little bit about what some of her challenges are. Maybe it's their community? Maybe it's their financial situation? There's all sorts of challenges.
Jill Terrien:
Right, 'cause I think it's easy to give recommendations, and that's what they are, recommendations. It can seem ominous to patients. But if you can break it down into small bites of what they can do to improve their quality of life, I mean, there's a lot of benefits here. Cognitive function when you exercise, and decrease in cancer risk, and, of course, saving money. When we talked about value-based healthcare, are we going to be judged and charged if we're overweight or have co-morbid conditions? I think that that's coming down the line. And so, is money going to motivate people to lose money... I mean, is money going to motivate people to move more. I believe there has been some studies on that, and I haven't looked at them, but I've seen that there's been a few things out on that. So, I guess, the main thing is Virginia's come in, and she's in a situation. Does she help with the meals? That's the other thing, come from the nutritional side of things.
Dr. Domino:
Alright, so I think Virginia's got a lot of answers to be offered to her question about what she can do to help her and her family. And I think these new guidelines give us some idea of what our goals should be. Thanks so much, Jill.
Practice pointer: New activity guidelines encourage us all to query our patients about their degree of activity and investigate what they can do to attempt to meet the goals set forth. Join us next time when we talk about healthy and unhealthy ways patients can better cope with stressors.