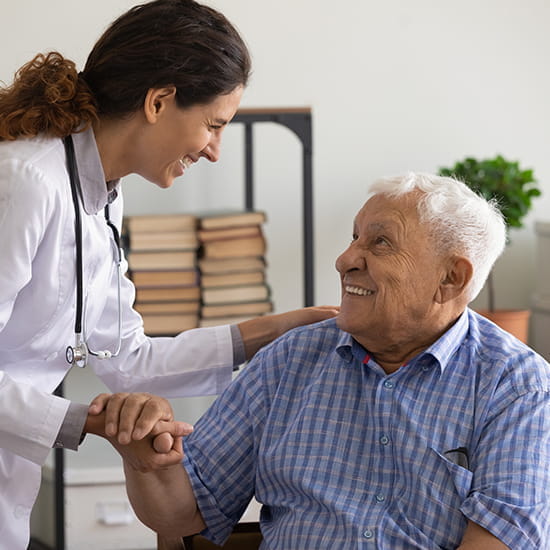 Podcast
Goals of Care Discussions in Patients with Serious Illness: Is It a Downer? - Frankly Speaking EP 81Discussing goals of care with patients that have a serious, life-limiting illness does not affect the patient's anxiety or depression—but can increase the quality of the communication. Listen to this podcast episode for tips that are easily adaptable to any outpatient or specialty practice.
Guest: Jill Terrien PhD, ANP-BC

CME Information
0 Credits - Not for CME/CE Credit
Release Date: 8/13/2018
Expiration Date: 12/31/2099
Topics
Faculty




Resources
Curtis, J., Downey, L., Back, A et al (2018). Effect of a Patient and Clinician Communication-Priming Intervention on Patient-Reported Goals-of-Care Discussions Between Patients With Serious Illness and Clinicians A Randomized Clinical Trial. JAMA Intern Med. Published online May 26, 2018. doi:10.1001/jamainternmed.2018.2317. https://www.ncbi.nlm.nih.gov/pubmed/29802770
Five Wishes is an easy-to-use legal advance directive document written in everyday language. It is available for use with your patients or as "preparatory" material before a Goals of Care Conversation. Available free in multiple languages. https://agingwithdignity.org/




Transcript
Dr. Frank Domino:
Your 80-year-old patient, Bob, comes into the office today for a follow-up after a discharge for hospitalization, his second this month for worsening congestive heart failure. His daughter is with him and she is his primary caretaker. Bob has always avoided talking about the future, but today he says, "This time I felt like I wasn't going to make it. I'm worried about my daughter and my dog, if something happens to me." Hi, this is Frank Domino, Professor in the Department of Family Medicine and Community Health at the University of Massachusetts Medical School. Joining me today is Jill Terrien, Associate Professor and Director of the Nurse Practitioner Specialties Program at the University of Massachusetts Medical School's Graduate School of Nursing. Hi, Jill.
Jill Terrien:
Hi, Frank.
Dr. Frank Domino:
So poor Bob, we all have many patients like this. What are some of the obstacles to talking to patients about end-of-life care?
Jill Terrien:
Well, first of all, I think it's difficult, because I think that we're wired to want to have longevity in people's lives, but we are turning our eye more towards quality of life. So first of all, it's a difficult conversation. The second thing is, it does take time and it might not just be in one visit, and sometimes you have a provider that might not be willing to talk, and the patient as well. So there's a lot of things that can happen.
Dr. Frank Domino:
There are a variety of issues, and time is a big issue, but I think we all feel a little uncomfortable, providers and patients, bringing up about end-of-life things. But certainly, today, Bob sounds like he wants to talk. What does recent research tell us about how we can help possibly address some of these barriers and obstacles to talking about end-of-life care?
Jill Terrien:
Right. So let's talk about the study that goes with this episode. This was done by a research team that has been doing this step-wise for a long time, and their prior research had informed them that there were different things that might occur if they prime the patient, and they prime the clinician before an actual visit to discuss goals of care. So basically, a targeted intervention is what they did. They had providers willing to participate from all specialties, but mainly family medicine and internal medicine. It was physicians and nurse practitioners, mainly physicians, and they actually asked those providers to pick a list of patients that would fit a criteria, they were hoping they had at least two years to live, that they had a serious illness, defined by a cancer, it could have been congestive heart failure, liver disease, and such like that. And then what they did is they knew that they had a visit coming, about a month before the visit, the team actually sent a survey to the patients, and the patients basically identified their priorities for a goals of care conversation at the next visit. They packaged that for the patient, and gave it to them in a one-sheet, tip sheet, called a jump start, for the conversation. They did the same with the providers, they gave that information about the patient, one to two days before the visit.
So basically, you had both people primed, the provider and the patient, and it worked. And so what they found was that the quality of the conversation was very high. They found the document... And they did this by looking in the electronic health record. And they also double-checked it, they didn't just say, "The provider did this." The provider didn't say, "I did this." They actually went and checked the actual electronic health record, to look for evidence of that conversation, and the goals being set. And then one of the things you always worry about, talking about goals of care and end-of-life issues, is that the patients might get upset. And so what they did is they did measured anxiety, by a general anxiety score, and also a depression scale, they used the PHQ-8, and they did that at a three-month and a six-month post-visit on the patient, and they found that there was no change.
Dr. Frank Domino:
So it sounds like they queried the patients, they gathered their concerns, and then shared them in a simple summary with both the patient and the provider, and that allowed both parties to sort of introduce and discuss these issues. It's really interesting that there was no adverse findings with this. Always you worry about bringing up end-of-life issues, it makes people scared, it makes you think that maybe you're gonna offend or upset the patient, or the patients are gonna start thinking you're thinking they're gonna die.
Jill Terrien:
Right. And they might be thinking you're giving up on them, which you don't want that to go either way, you don't want the patient to feel like you're giving up, the patient may not wanna give up for you. And it's really not about giving up, it's about, "Let's make some decisions now, let's talk about them. Let's do some planning. So when this occurs, we can deal with it together, and I know what you would like."

Dr. Frank Domino:
It certainly sounds like you're empowering the patient to have their wishes known, in a sort of a non-confrontational way.

Jill Terrien:
Absolutely, absolutely.
Dr. Frank Domino:
How do you approach bringing these issues up, and how can we incorporate these findings into what we do?
Jill Terrien:
One of the outcomes of this study, and one of the discussion points was, well, boy, how could I do this in my practice? I can't query my patients and bundle it. This study was meant to show that with doing this, it works well, and now it needs to be kinda looked at in practical practice. And I think just even possibly, let's just take our patient, Bob. He's there today, he's opened the door for this discussion, alright, he's worried about his daughter, he's worried about his pet. People love their pets, they wanna do some planning. So, I think that it's a conversation when you know somebody that has a serious illness, have you asked them all the questions, do they have a plan, and how can you help them? And I don't wanna say that this is gonna be done in one visit, it might be you sending the patient away and coming back in a month, or whatever time you determine, and having them review some literature, whether that be something like a five wishes document or something else, and then coming back and, again, having another tailored discussion along with their visit.

Dr. Frank Domino:
Can you tell me a little bit about what the five wishes are?
Jill Terrien:
Sure. It's actually been used by 25 million people in this country, and their families. And it's kind of like, it's a living will, but it covers the domains of the personal, emotional, spiritual and medical wishes of the patient. And they can fill it out with you, they can come with it filled out, you can encourage them to talk with their family members. But again, it jump starts the conversation, and lets you know what the patient's priorities are, not what yours are, you might wanna talk about X, Y and Z today, and it might be totally flip-flopped and the patient might have something else on their mind.
Dr. Frank Domino:
I like the five wishes. I use a values history with patients, and thanks to the wellness visit, I actually make that the centerpiece of... When a senior comes in, I'll say, "Let's go through this together." And it just asks them simple questions, like, "If you were unable to speak for yourself, would you want to be kept alive on a machine?" But it's not just yes or no. It's yes, indefinitely. Or yes, but withdrawn if there's no good chance of survival. Or yes, but only for a blank number of days, or no. And I actually find that I incorporate that with a healthcare proxy, so they give me the names and contacts, and it really helps patients at least open the door, but I think the five wishes sound very good. Any final thoughts on what we should be doing for Bob today?
Jill Terrien:
Well, I think, as I said earlier, he opened the door, he's got the door open. And if his daughter is with him, I'd ask, "Do you want her to be in the room and have her be part of this conversation? I think it would be important, but I wanna know what you wanna do." And then start that conversation, ask him what's the most important thing he wants to talk about today and have a plan for. The other thing is, I think that patients get nervous that they get locked into a decision, alright. And I think we also have to let them know it's okay to change their mind. You give them that permission so that they don't get all anxious about it, thinking, "Well, I've made this decision, my provider wrote it in my note, it's gonna be the truth." Which it can be or not, if they change their mind. So I think that that's an important point to let them know. And Frank, can I just ask you one question, how do you define senior, when you're having these conversations?
Dr. Frank Domino:
Well, that's a great question, when are we having these conversations? Certainly, anyone who qualifies for a wellness visit, if they've got a chronic disability, or they make the age requirement, I have no problem having that discussion. But as you said, I'm open to it for patients any time, if they've just had a loved one go through a serious event, and they're open to talking about it, I bring it up then. I've completed these on 35-year-olds. And I think it's important being sensitive, often more important than sometimes us meddling with their meds and that sort of thing.
Jill, this is a great topic, thanks so much. And I wanna let the audience know, we'll provide a variety of resources on the landing page for this session that you can download and use with your patients. Thanks again, Jill.
Jill Terrien:
Thank you, Frank.

Dr. Frank Domino:
Practice pointer: Be open and listen for a patient's hints that they wish to discuss goals of care, especially when they have a serious life-limiting illness. Join us next time, when we talk about the role of sleep and its impact on cardio metabolic risk factors. And for more timely, relevant and practical medical education, check out pri-med.com.