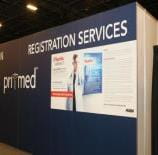 Registration Area (exclusive)
As the Registration Area sponsor, be one of the first brands attendees see when they enter the convention center. Attendees are required to check in each morning on-site; grab their attention the moment they arrive.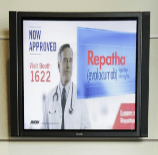 Multi-Location Digital Signage
With a 30- or 60- second video playing on 21 LCD screens throughout the convention center, attendees and drive-by traffic will be exposed to your brand and message multiple times over the course of 3 days. This opportunity is limited to five sponsors per event and exclusive to one brand sponsor per drug class. Available at Pri-Med East.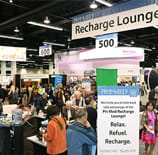 Recharge Lounge
An exclusive opportunity to sponsor the Pri-Med Recharge Lounge, where traffic flow is extremely high. This includes color coordination to fit your brand, your logo on the Recharge Lounge banner, free-standing signs, branded napkins, and coffee/snacks provided by DBC Pri-Med.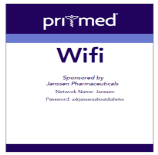 Wi-Fi Sponsorship (exclusive)
Your unbranded artwork will be seen by thousands of clinicians, multiple times throughout the conference. Includes dedicated on-site signage, printed instruction cards, and sponsors attribution with Wi-Fi instructions included in onsite guide.