An Invitation to Good Health and Lasting Happiness
Description
Scientific studies have shown how we can incorporate simple habits to improve our health and live longer. Dr. Chopra will review this body of evidence in an engaging and interactive way. Do we have a set point for happiness? Can we increase it? He will review the research on happiness and show his reflections on how living with purpose is the foundation for sustained happiness and joy.
Learning Objectives
Review the scientific studies on the health benefits of coffee, exercise, vitamin D, nuts and meditation
Discuss the benefits of social connectedness and friendship
Review the landmark Harvard Grant Study and elucidate the lessons learnt.
---
Speakers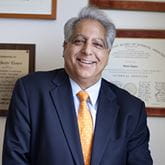 Dr. Sanjiv Chopra is Professor of Medicine at Harvard Medical School. He is also the James Tullis Firm Chief in the Department of Medicine and a Senior Consultant in Hepatology at the Beth Israel Deaconess Medical Center, Boston. He served as Facult...