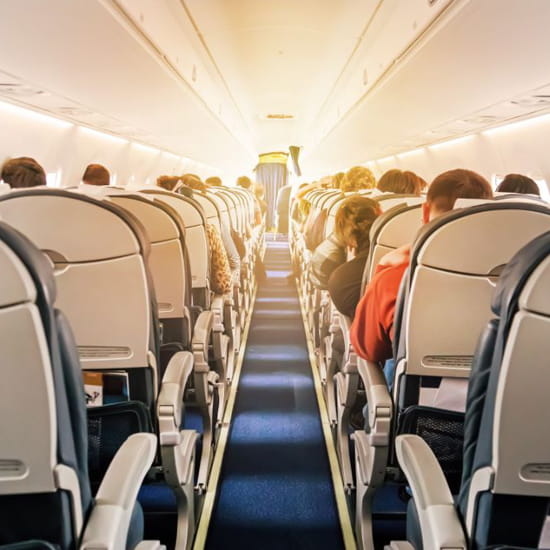 Published August 8, 2019
Published August 8, 2019
Author: Margaret Oliverio, MD, is an Associate Medical Director at Pri-Med. This post includes a modified excerpt from a recent session presented by Theodore Eric Macnow, MD.
Continuing medical education in healthcare has evolved over the years. Although educational activities typically focus on how you can improve care in your practice, hospital, medical center, etc., there is CME for physicians—and other healthcare professionals—that focuses on patient care in nontraditional environments. As you're choosing courses that offer AMA PRA Category 1 Credits™ to fulfill your CME requirements, consider a course such as Medical Emergencies on Commercial Flights, which covers key strategies you'll want to know before your next trip.
How Often Do In-flight Medical Emergencies Occur?
Added stress in travel is unique to our trade. At any point on an airplane, we can be paged publicly overhead to assist with a medical emergency. This medical emergency might be outside our normal scope of practice, and it's going to occur in a haphazard environment where there are limited resources.
Despite how stressful this scenario sounds, many physicians and other healthcare professionals believe offering help to passengers is their professional responsibility, as it fulfills one of the purest expressions of the Hippocratic Oath. In fact, 48% of all in-flight emergencies are addressed by physicians while another 25% are addressed by other healthcare professionals.
According to the International Air Transport Association, more than 4 billion passengers fly commercially every year; it's estimated that there will be a medical emergency during in 1 in every 604 flights. Given that commercial aircrafts are increasing in size and flights are becoming longer, there's a good chance you'll be called on to apply practical medical management strategies on an aircraft at some point in your career.
Medical Emergencies on Commercial Flights is a can't-miss CME course for physicians. It covers everything you need to know before taking your next flight. This blog post will outline a few key points from the course, such as common in-flight emergencies and a process you can follow when helping patients mid-flight.
Common In-flight Emergencies
Oxygen deprivation, gas expansion, dry air, items falling from overhead bins, and the close proximity of sick passengers are just a few of the stressors placed on the human body when flying.
The most common midair medical issues include:
Syncope or near-syncope – 33%
Gastrointestinal symptoms – 15%
Respiratory symptoms – 10%
Cardiovascular symptoms – 7%
The full evidence-based course is available for CME credit and offers detailed recommendations for assessing and treating these and other medical emergencies using the limited resources found on commercial airplanes.
Did you know? You can earn AMA PRA Category 1 Credits™ at any of our affordable medical conferences or through our free online educational activities.
8 Steps for Helping Patients Mid-Flight
There are systematic and practical management approaches you can use to successfully administer in-flight care. Although several of these approaches mirror procedures used in practices, hospitals, medical centers, etc., some adjustments can be made to accommodate the challenges that are unique to midair emergencies. Healthcare professionals can follow these steps when responding to medical emergencies on commercial airplanes (adapted from In-Flight Medical Emergencies during Commercial Travel).
Identify yourself: Informing flight attendants and patients of your level of training can eliminate ambiguities and put everyone at ease about your qualifications. Because of this, it's recommended that you carry your medical license whenever you travel by air.

Tip: Bring code cards and your own stethoscope when flying.

Airway, breathing, and circulation: Your priority should be the ABCs. You want to do CPR as soon as possible and apply the AED. Time to defibrillation is the most important determinant of survival for a person in cardiac arrest.
Request the emergency medical kit: If you think there's anything you might need in the kit, open it and begin exploring. Airline personnel might ask that you not unnecessarily open the emergency medical kit. It's sort of like a code card; if it's opened, all the contents need to be checked and resealed before the next flight. However, if you think you really might need something, open it and make sure you know where it is.

Tip: Dr. Macnow covers in detail what is typically included (and what is not included) in commercial airline emergency medical kits in the full CME course for physicians and other healthcare professionals. You can also ask other passengers for medical supplies or medications if needed.

Find space: Even the largest commercial airplanes offer limited space for treating medical emergencies, which is why it's a good idea to move patients to the galley or request other passengers temporarily give up their seats.
Take a medical history: It's easy to get out of our routines in these situations, but do your best to ask the same questions you would in a hospital, your practice, or medical center.
Conduct a physical exam: While it may be difficult to perform a normal physical exam, you should do your best to check the patient's blood pressure, breathing, and other vitals before administering treatment.
Consider your options: Remember, ask for help from other passengers-there could even be other healthcare professionals on board. If the airline partners with a ground-based physician support company, you want to start talking to that representative. As early as you can, consider diversion or altitude reduction. You might be asked for your opinion, and your opinion should be based on the medical condition of the patient.
Document everything: To ensure the passenger receives timely and accurate treatment after the plane has landed, it's essential that you document everything you did to stabilize his or her condition. Also, be sure to keep a copy for your records.

Tip: If you have to, you can document what you did on a napkin, and then take a picture of your notes for your records.
The full course, Medical Emergencies on Commercial Flights, will provide an in-depth look at the pathophysiologic stresses of air travel, the equipment available on aircrafts, and approaches to performing midair patient interventions for the common emergencies listed above. Prepare for your next flight by completing the full evidence-based CME course for physicians and earn up to 1.00 AMA PRA Category 1 Credit™ at no cost.
CME for Physicians: Why Choose Pri-Med?
Developing CME for physicians and other healthcare professionals has been our focus since 1995. We continuously create new educational activities and ways for you to easily learn about the latest and most accurate medical insights.
In addition to providing high-quality learning opportunities, Pri-Med automatically tracks the CME credits and associated certificates you earn in your personal dashboard on Pri-Med.com. This allows you to easily check how many credits you've earned against your CME requirements and access your certificates at any time.
To earn CME credits and learn more about our CME for physicians, browse our library of evidence-based online courses and medical conferences.
Sources:
International Air Transport Association. (2018, September 6). Traveler Numbers Reach New Heights. Retrieved from https://www.iata.org/pressroom/pr/Pages/2018-09-06-01.aspx.
Martin-Gill C, Doyle TJ, Yealy DM. In-Flight Medical Emergencies: A Review of In-Flight Medical Emergencies. JAMA. 2018;320(24):2580-2590.
Nable JV, et al. In-Flight Medical Emergencies during Commercial Travel. N Engl J Med. 2015;373(10):939-945.
Peterson DC, Martin-Gill C, Guyette FX, et al. Outcomes of Medical Emergencies on Commercial Airline Flights. N Engl J Med. 2013;368(22):2075-2083.