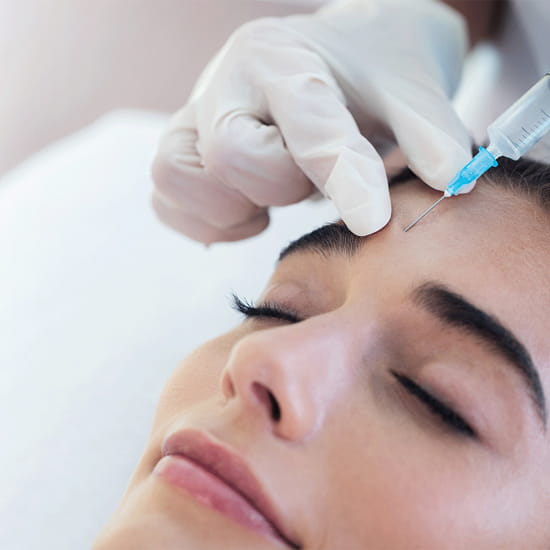 Published November 22, 2019
Published November 22, 2019
There is currently a high demand for aesthetic injectables for both preventive and corrective purposes, and because insurance is not accepted for these procedures, they constitute a cash business. We've experienced firsthand that offering aesthetic injectables as an add-on service or outside of your practice can drive additional revenue.
We are Alexa Nicholls Costa, NP, and Alexandra Rogers, NP, the cofounders of LexRx—a nurse practitioner-owned and -operated aesthetic injectables practice with expertise in neurotoxin and dermal filler treatments. Since launching in 2015, we have organically grown from a concierge practice to a seven-figure business with two locations in Boston, Massachusetts.
Read this post to learn more about the increase in demand for aesthetic injectables, required training, different formats for this service, how to determine whether aesthetic injectables are the right fit for you, and tips for marketing and pricing the service.
Increase in Demand and Decrease in Stigma
Cultural stigmas have historically kept conversations around non-invasive cosmetic procedures—such as having fine lines or lips filled—from being held openly. In the past several years, this has changed, particularly among millennials. In this demographic, we're seeing that aesthetic injectables are no longer being used just for corrective work but also for preventive maintenance. Many patients will openly share the work they've had done with friends, family, colleagues, and even on social media.
We recognized this market that needed to be served, and we capitalized on it in 2015 when we first saw this shift. And still to this day, we're seeing the biggest demand in the millennial demographic.
Training
Training and certification are required before offering aesthetic injectables as a service. However, there are many ways to become certified in the industry, and it doesn't take a significant amount of time. Many dermal filler and neurotoxin courses typically take just one day, and you can become certified by an individual clinician or by attending a conference or workshop. However, we strongly recommend mentorship hours with an experienced clinician after completing an aesthetic injectables course, so you have a thorough understanding of neurotoxins and the ability to perform the techniques.
If you're interested in learning more about aesthetic injectables but aren't ready to commit to a full-day course with certification, start with one of our three-hour workshops available for CME/CE credit. Join us on Friday, December 6 at Pri-Med East in Boston, MA, or on Friday, February 7 at Pri-Med South in Fort Lauderdale, FL.
This workshop is designed from the perspective that all areas of clinical practice, including aesthetic practice, should be held to the highest degree of evidence-based care, safety, ethics, and innovation.
Consider the Format That Would Work Best for You
There are a variety of ways in which you can offer aesthetic injectables as a service. This can be strictly an add-on service to your existing practice, a service you offer outside of your practice (through a concierge model), or through a partnership with another clinician in your practice, or with a new business.
When we initially launched LexRx in 2015 through a concierge model, we traveled to our patients' homes all over the state while we were both working full-time jobs. This was an easy and financially conservative way to start practicing, but traveling to patients' homes was time-consuming.
We have now pioneered our own unique market by providing strictly injectable services at our practices. Think about what would be the best fit for you and your practice (there is no one-size-fits-all).
Test with Small Investments Initially
When we first launched through a concierge model, our initial investment/upfront capital for the business was the cost of one vial of Botox® Cosmetic; we split the cost 50/50, and once we regained the capital from the initial Botox® Cosmetic vial, we purchased two vials and continued growing with this conservative approach.
Buying large quantities of product is not necessary initially. Regardless of the format in which you're offering aesthetic injectables as a service, buying one or two vials of product at a time while you grow the business is appropriate, and free overnight shipping makes this easy to do.
Ordering the product in a conservative manner allowed us to self-support and self-fund our business. We grew busy enough using a concierge model to trial a Boston-based headquarters on Newbury Street in 2016. We now have two locations in Boston and have since grown our team from two NPs to seven NPs while remaining 100% cash-flow positive since our launch, allowing the business to grow without the burden of business loans.
Tips for Pricing and Marketing the Service
Utilizing social media, avoiding discounts, and charging by the treatment area have been a few key elements in the success of our aesthetic injectables business.
Utilize Social Media
Social media is an incredibly powerful marketing tool, especially for the millennial demographic. Using consistent and authentic messaging on all social media platforms, including Instagram, Facebook, and Twitter is key for promoting this service. Consider laying out a social media plan for your business, and be sure to take advantage of the ability to engage with patients on these channels.
Don't Discount—Add Value
Over the past 4+ years, we have realized that it is important to stand firm in how you value yourself and your practice. When we first launched, we were charging our patients unit pricing for neurotoxin treatments. Our pricing was $14/unit, but we would discount to $12/unit for friends and family. When we took into consideration all that went into our business (our extensive training and education, rent, travel time, malpractice insurance, supplies, equipment, etc.), we realized that there was no need to discount services.
It is important not to discount services but rather to add value to your patients in other ways. For example:
Utilize the pharmaceutical rewards programs, and assist patients in enrolling so they can take advantage of the offers being presented. A few of the rewards programs you can utilize are Brilliant Distinctions (Allergan), Aspire Rewards (Galderma), and the Xperience Program (Merz).
Consider adding complimentary services and/or neurotoxin touch-ups. Get creative—use your practice to host complimentary events for patients to attend, or partner with like-minded local businesses, and offer perks such as referral programs.
Charge by the Treatment Area
Because the units needed for a procedure vary by patient and treatment area, when we charged by the unit, it was challenging to answer questions from patients who wanted to know a definitive price ahead of their visit. Many prospective clients would call before an appointment, and without a face-to-face consultation with the client, it would be impossible to determine an appropriate dose. We quickly changed our model from charging by the unit to charging by the treatment area (which for neurotoxin treatment includes touch-ups within 1 to 3 weeks of the patient's initial visit), thus simplifying the process and allowing clients to know the price ahead of time.
To create this pricing model, we considered 2 years' worth of data points for patients' initial visit and touch-up visit to determine the average unit consumption and spend. Changing our pricing model to one that is transparent has not only cultivated trust in our patient base, but it has also led to greater patient satisfaction and treatment results.
LexRx is a Nurse Practitioner-owned and -operated aesthetic injectables practice and lifestyle brand, offering expertise in neurotoxin and dermal filler treatments—nothing more, nothing less. Don't miss our Introduction to Neurotoxins: Aesthetic Dermal Injections for Facial Rejuvenation workshop available for CME/CE credit in Boston this December at Pri-Med East or in Fort Lauderdale this February at Pri-Med South. This three-hour workshop will include both didactic and observation of hands-on aesthetic injectables and will focus on aesthetic indication and use of neurotoxins in practice. If you're already familiar with aesthetic injectables, LexRx also has a teaching entity at which we certify clinicians.