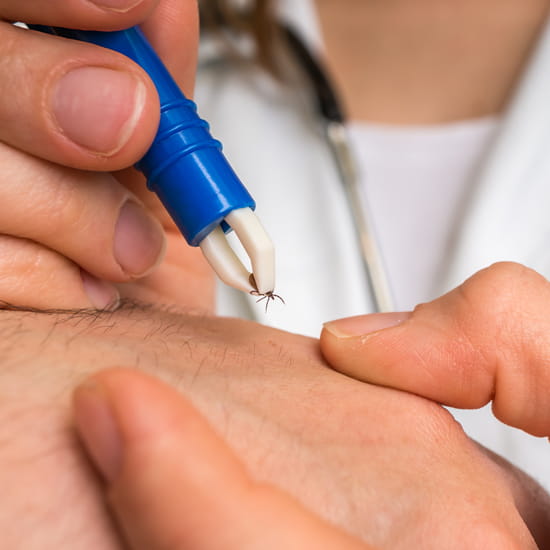 Published May 7, 2021
Published May 7, 2021
In November 2020, the Infectious Disease Society of America (IDSA), in conjunction with the American Academy of Neurology (AAN) and the American College of Rheumatology (ACR), updated the guidelines for the prevention, diagnosis, and treatment of Lyme disease. Below are the important highlights:
Individuals should wear long clothing, thoroughly check for ticks, and use DEET for the best prevention.
Ticks need to be removed gently without heat or chemicals.
Tick identification is helpful for risk assessment.
There is no need for serologic testing in ticks, asymptomatic patients with tick bites, or patients with erythema migrans.
Only high-risk tick bites need antibiotic prophylaxis with a single dose of doxycycline.
Treatment of erythema migrans is with a 10-day course of doxycycline.
Pre-exposure monoclonal antibody prophylaxis might be available soon.
This article gives the primary care clinician a brief overview of the updated guidelines regarding the prevention, diagnosis, and treatment of Lyme disease in a clinic setting. Experts performed a systematic review of over 400 studies to determine best practices.1 Further discussion on the diagnosis and treatment of complications related to disseminated Lyme disease, including arthritis, carditis, and neurologic manifestations, can be read through the IDSA guidelines.
Lyme disease is a tick-borne illness caused by the spirochete Borrelia burgdorferi. It is spread through the bite of an infected Ixodes scapularis tick. In the United States, Lyme disease is predominantly found in the Northeast, upper Midwest, and northern California. The illness can sometimes be frustratingly difficult to diagnose since systemic symptoms may not begin until several days to months following infection. Unfortunately, disseminated infection can lead to significant complications, including meningitis, cardiac conduction abnormalities, neuropathy, and chronic arthritis. Therefore, the primary care clinician needs to educate patients on prevention techniques and treat high-risk tick bites.
Prevention
Wear long clothing, and search for ticks.
Although there is very little evidence to support personal protective measures, these prevention methods intuitively prevent tick bites with little risk and cost. Encourage individuals to wear long sleeves and long pants when outdoors. Additionally, after being outdoors, particularly in an endemic area, it is essential to search for ticks attached to the skin.
Use DEET.
The IDSA guidelines note that several studies find that different products are effective at preventing tick bites when applied to the clothes and skin. DEET, picaridin, IR3535, oil of lemon eucalyptus, and 2-undecanoate on the skin and permethrin on clothing prevent tick bites. Studies in the use of botanical agents and essential oils are lacking, so the IDSA cannot recommend them. DEET can also be applied to clothing, but permethrin is more effective as a repellant on clothing when used appropriately.
Gently remove the tick.
One of the most important predictors of subsequent Lyme disease is the duration of tick attachment. Animal studies show that the transmission of B. burgdorferi is slow, and it does not occur within 24 hours of tick attachment. Transmission rarely occurs within 48 hours of attachment. Therefore, ticks should be removed promptly to avoid infection and necessary prophylactic treatment. Additionally, the tick should gently be removed with a fine-tipped tweezer. Although there are no specific studies that evaluate tick removal methods, experts do not recommend using chemicals or heat for tick removal. These methods might cause the tick to regurgitate stomach contents leading to an increased risk of pathogen transmission.
Diagnosis
Identify the tick.
It can be helpful for several reasons to submit a tick for species identification. Identifying an Ixodes tick can help a clinician determine a person's risk for Lyme disease. Tick identification can also help determine whether a person is at risk for other tick-borne illnesses. However, since most ticks are attached for less than 48 hours, experts do not recommend testing the tick for the pathogen since spirochete transmission is not guaranteed.
Do not perform serologic testing on asymptomatic patients.
For patients who are asymptomatic after a tick bite, experts do not recommend serologic testing for B. burgdorferi. Serological testing does not help with treatment decisions. Additionally, a positive serologic test for Lyme disease most likely represents a previous infection rather than a new infection because it takes several weeks for patients to develop antibodies.
Make a clinical diagnosis in patients with erythema migrans.
An early manifestation of Lyme disease is an expanding, erythematous, annular skin lesion called erythema migrans. Sometimes people will also have concomitant fevers, fatigue, headaches, and arthralgias. Any patient who has potentially been exposed to a tick and presents with a rash characteristic of erythema migrans should be diagnosed clinically for Lyme disease. Further testing is not recommended. Testing is only indicated if a patient presents with an atypical rash for erythema migrans. In this situation, the recommended diagnostic test is an antibody test performed acutely and again 2–3 weeks later if the initial test is negative.
Treatment
Only high-risk tick bites should be treated with antibiotic prophylaxis.
Prophylactic antibiotic therapy to prevent Lyme disease after a patient presents with a tick bite is only recommended in people with a high-risk bite. A tick bite is considered high risk if:
The tick is identified as an Ixodes tick.
The bite occurred in a highly endemic area.
The tick was attached for more than 36 hours.
If a tick bite does not meet all three of these criteria, prophylactic antibiotic treatment is not recommended. If therapy is required, experts recommend a single dose of oral doxycycline 200 mg. Children should be given 4.4 mg/kg.
Patients with erythema migrans need doxycycline for 10 days.
For patients who present with early Lyme disease and evidence of erythema migrans, experts recommend 10 days of doxycycline treatment or 14 days of amoxicillin or cefuroxime treatment. If patients cannot take any of these options, the second-line agent is 7 days of azithromycin. Although the erythema migrans rash will resolve without treatment, antibiotics are recommended to speed rash resolution and prevent disseminated Lyme disease.
Disseminated Disease
If not appropriately treated, disseminated Lyme disease can cause meningitis, radiculoneuritis, cranial neuropathies, carditis, and arthritis. However, further discussion on the diagnosis and treatment of these complications goes beyond the scope of this article. For specific details on these Lyme disease complications, please view the Infectious Disease Society of America guidelines.
Is There a Lyme Disease Vaccine?
In exciting news, MassBiologics of UMass Medical School began a phase 1 trial of a new pre-exposure monoclonal antibody prophylaxis for Lyme disease.2 Rather than creating a vaccine and waiting for the body to build its own antibodies, scientists deliver an anti-Lyme antibody through prophylactic treatment. They indicate that if a person has antibodies against the bacteria, they prevent transmission of B. burgdorferi. This method kills the bacteria in the tick gut before transmission to the human. The monoclonal antibody model has been successful in mice, and now scientists are testing its safety in 60 volunteers.3-5
Additionally, Valneva, a special biotechnology company, is collaborating with Pfizer in a phase 2 study of a Lyme vaccine called VLA15.6 The study is ongoing to test immunogenicity and safety.7 Hopefully, these new ventures will help us prevent the most common vector-borne disease in the United States.
Primary care clinicians play a critical role in the diagnosis and treatment of Lyme disease. Earn credits and learn more about how you can improve care for patients through Pri-Med's free online Lyme disease CME/CE.
References
Paul M Lantos, Jeffrey Rumbaugh, Linda K Bockenstedt, Yngve T Falck-Ytter, Maria E Aguero-Rosenfeld, Paul G Auwaerter, Kelly Baldwin, Raveendhara R Bannuru, Kiran K Belani, William R Bowie, John A Branda, David B Clifford, Francis J DiMario, Jr, John J Halperin, Peter J Krause, Valery Lavergne, Matthew H Liang, H Cody Meissner, Lise E Nigrovic, James (Jay) J Nocton, Mikala C Osani, Amy A Pruitt, Jane Rips, Lynda E Rosenfeld, Margot L Savoy, Sunil K Sood, Allen C Steere, Franc Strle, Robert Sundel, Jean Tsao, Elizaveta E Vaysbrot, Gary P Wormser, Lawrence S Zemel, Clinical Practice Guidelines by the Infectious Diseases Society of America (IDSA), American Academy of Neurology (AAN), and American College of Rheumatology (ACR): 2020 Guidelines for the Prevention, Diagnosis and Treatment of Lyme Disease, Clinical Infectious Diseases, Volume 72, Issue 1, 1 January 2021, Pages e1–e48, https://doi.org/10.1093/cid/ciaa1215
Fessenden J. Preventative shot for Lyme disease, developed at UMass Medical School, enters clinical trial. UMassMedNews. Feb 24, 2021. Accessed Apr 23, 2021. https://www.umassmed.edu/news/news-archives/2021/02/preventative-shot-for-lyme-disease-developed-at-umass-medical-school-enters-clinical-trial/
Wang Y, Kern A, Boatright NK, Schiller ZA, Sadowski A, Ejemel M, Souders CA, Reimann KA, Hu L, Thomas WD Jr, Klempner MS. Pre-exposure Prophylaxis With OspA-Specific Human Monoclonal Antibodies Protects Mice Against Tick Transmission of Lyme Disease Spirochetes. J Infect Dis. 2016 Jul 15;214(2):205-11.
Wang Y, Esquivel R, Flingai S, Schiller ZA, Kern A, Agarwal S, Chu J, Patel A, Sullivan K, Wise MC, Broderick KE, Hu L, Weiner DB, Klempner MS. Anti-OspA DNA-Encoded Monoclonal Antibody Prevents Transmission of Spirochetes in Tick Challenge Providing Sterilizing Immunity in Mice. J Infect Dis. 2019 Mar 15;219(7):1146-1150.
Rosales M. Human trials for Lyme disease shot kickoff in Nebraska. NetNews. Apr 7, 2021. Accessed Apr 23, 2021. http://netnebraska.org/article/news/1259864/human-trials-lyme-disease-shot-kickoff-nebraska
Arthur R. Valneva and Pfizer start new phase 2 study for Lyme disease vaccine candidate. BioPharma-Reporter.com. Mar 8, 2021. Accessed Apr 23, 2021. https://www.biopharma-reporter.com/Article/2021/03/08/Valneva-and-Pfizer-start-new-Phase-2-study-for-Lyme-
CT.gov. Immunogenicity and safety of a vaccine against Lyme borreliosis, in healthy adults aged 18 to 65 years. Randomized, controlled, observer-blind phase 2 study. Accessed Apr 23, 2021. https://clinicaltrials.gov/ct2/show/NCT03769194