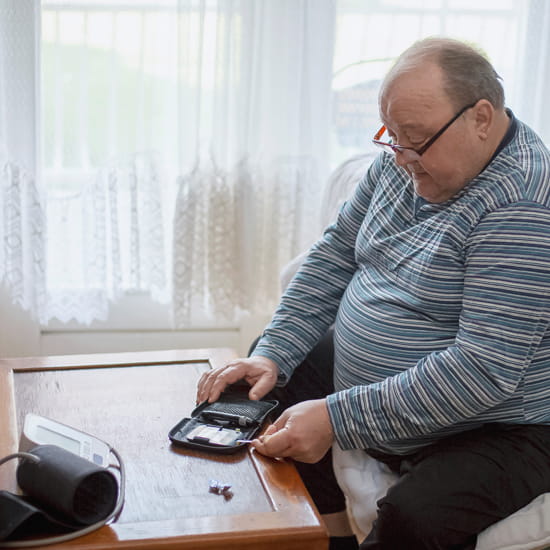 Published June 22, 2021
Published June 22, 2021
Obesity is a common problem in the United States that leads to other systemic problems like diabetes, which contributes to overall poor health. Several medications help control blood glucose levels in patients with diabetes, but newer drugs also help reduce weight. This article will discuss the role of glucagon-like peptide-1 (GLP-1) and glucose-dependent insulinotropic polypeptide (GIP) agonists in glucose and weight control. Here are the key takeaways.
Obesity is a serious problem in the United States, affecting 42.4% of adults and up to 20% of children.1
Older weight loss medications have significant side effects and contraindications, but newer GLP-1 agonists and dual GLP-1/GIP agonists are better tolerated and can help people with and without type 2 diabetes.
GLP-1 receptor agonists induce satiety, augment glucose-stimulated insulin secretion, and inhibit inappropriate glucagon secretion.3
Liraglutide, a GLP-1 receptor agonist, is now approved for the treatment of obesity in patients without type 2 diabetes.
New GLP-1/GIP agonists show even greater reductions in hemoglobin A1c and weight.10
Tirzepatide is a dual GLP-1/GIP agonist that shows real promise for the treatment of diabetes and weight in patients with type 2 diabetes.10
To further dive into these topics, the article below will discuss obesity prevalence and the problems with the use of older weight-reducing medications. Then, the article will discuss how GLP-1 and GIP agonists work and will bring attention to the newest drug on the market that treats both diabetes type 2 and obesity, tirzepatide.
Prevalence of Obesity
According to the Centers for Disease Control (CDC), the prevalence of obesity in the United States, defined as a BMI of 30 or higher, is 42.4%.1 Over the last 20 years, the prevalence has increased from 30.5%. Moreover, the prevalence of severe obesity, defined as a BMI of 40 or higher, has increased from 4.7% to 9.2%.1 Similarly, childhood obesity is a serious problem. The prevalence ranges from 13% in 2- to 5-year-olds to 20% in 12- to 19-year-olds.1 Obesity is a complex health issue that primarily results from a combination of genetics, education and skills, food marketing and availability, dietary patterns, lack of physical activity, and medication use. However, it is a significant health problem in the United States due to its relationship with the leading causes of death, including heart disease, stroke, diabetes, and certain types of cancer.
Older Weight Reducing Medications are Limited
Aside from behavioral interventions, there are very few safe, efficacious, and FDA-approved medications that treat appetite and obesity. Sibutramine is a centrally-acting appetite suppressant limited by side effects and contraindications in people with uncontrolled hypertension and coronary artery disease.2 Orlistat acts in the gastrointestinal tract to decrease absorption of ingested fat but often is not tolerated well due to side effects.2 Phentermine, a sympathomimetic, is also limited by side effects, and it is contraindicated in patients with uncontrolled hypertension and cardiovascular disease.2 However, there are newer type 2 diabetes drugs that improve blood sugar control and lead to weight loss. They might offer benefits to people with type 2 diabetes and people with obesity without type 2 diabetes.
GLP-1 Receptor Agonists
Several gastrointestinal hormones help control glucose metabolism, appetite, and body weight. One hormone studied for the treatment of diabetes and weight loss is glucagon-like peptide-1 (GLP-1). It is secreted in response to food intake and has multiple physiologic actions. It induces satiety by acting on the central nervous system, works to expand insulin-secreting beta-cell mass in the pancreas, and augments glucose-stimulated insulin secretion. It also inhibits inappropriate alpha-cell glucagon secretion that often occurs in patients with type 2 diabetes.3 Unfortunately, the hormone is quickly degraded by the enzyme dipeptidyl peptidase-4 (DDP-4), so it has a half-life of about 1–2 minutes. Therefore, researchers have focused on the development of GLP-1 receptor agonists.
Several GLP-1 receptor agonists show improved glycemic control in patients with type 2 diabetes, and they also show improvements in body weight.2 Other studies have been done to evaluate the weight loss benefits of these medications in patients without diabetes. They show that chronic use of GLP-1 agonists correlates with significant weight loss.4 Specifically, the use of liraglutide consistently results in a 4 to 6 kg weight loss.5 This medication is now FDA approved as a weight loss reduction agent for patients without diabetes. However, gastrointestinal side effects and the cost of treatment often lead to discontinuation of therapy. Also, almost all of the GLP-1 receptor agonists including albiglutide, dulaglutide, exenatide, liraglutide, and lixisenatide, only come in injectable forms. The only oral preparation is semaglutide.
GIP Agonists and Antagonists
Enhanced insulin secretion elicited by an oral glucose load compared to an intravenous glucose load is called the incretin effect.6 The hormones involved in this process are GLP-1 and glucose-dependent insulinotropic polypeptide (GIP). GIP has also been studied as an agent that might help with diabetes and weight control. However, a few problems have been discovered about the use of GIP to control blood sugar.
First, the incretin effect seems to be defective in patients with type 2 diabetes.6 Fortunately, the incretin deficiency is overcome by treatment with GLP-1 receptor agonists. However, treatment with isolated GIP does not seem to change the defective incretin effect. This might be because of defective or internalized GIP receptors.6 Also, in contrast to GLP-1, which suppresses appetite and inhibits inappropriate glucagon secretion, GIP only amplifies insulin secretion. This, in turn, enhances fat storage.6 This single-action hormone is suggested to promote obesity rather than reduce it. However, these facts have not stopped scientists from studying combinations of these hormones or GIP antagonists.
Since GIP enhances insulin secretion and seems to promote weight gain, it follows that inhibiting GIP might promote weight loss. Although a naturally occurring GIP antagonist called GIP(3-30)NH2 inhibits insulin secretion and produces weight loss in animal studies, GIP antagonists are not currently approved or used in patients with type 2 diabetes.7,8
However, the GLP-1 and GIP hormones are related and work synergistically in ways that we do not fully understand. Scientists have discovered that combining elements of both peptides to create dual agonists seems to have glucose-lowering and weight-losing effects.9 Although the mechanism for this effect is not fully clear, scientists believe that the combined use of the GLP-1 and GIP peptides reactivates defective GIP receptors in patients with type 2 diabetes.9 Then the two medications work together to control blood glucose levels and initiate weight loss better than using GLP-1 agonists alone.9
Dual GLP-1/GIP Agonist Approved for Diabetes and Weight Control in Patients with Type 2 Diabetes
Tirzepatide is a dual GIP/GLP-1 agonist medication that produces significant reductions in hemoglobin A1c, fasting plasma glucose levels, and body weight.10 Researchers report a significant weight reduction of up to 11 kg if patients are treated with the highest dose for several weeks. This medication is a once-weekly dosing regimen, and the most prominent effects on weight occur with the use of 15 mg weekly. All three doses—5 mg, 10 mg, and 15 mg—show similar reductions in hemoglobin A1c that are statistically significant compared to placebo.10 Gastrointestinal side effects are the most common adverse events, similar to the GLP-1 receptor agonists. This medication is not FDA-approved yet, but it shows real promise in helping to control both diabetes and obesity.
The new agents can help fight type 2 diabetes and the problem of obesity in your patients. Consider adding tirzepatide to your armamentarium. Also, consider using liraglutide for weight reduction in patients without type 2 diabetes. To learn more, explore our on-demand GLP-1 CME programs.
Pri-Med has been a trusted CME/CE provider for 25+ years, offering accessible online and in-person education to primary care clinicians across the US. Now more than ever, it is critical that you have access to timely and reliable information to help you provide the best patient care. Explore our CME/CE at Pri-Med.com.
References
1. Centers for Disease Control and Prevention. Overweight and Obesity. https://www.cdc.gov/obesity/index.html. Accessed April 2021.
2. Neff LM, Kushner RF. Emerging role of GLP-1 receptor agonists in the treatment of obesity. Diabetes Metab Syndr Obes. 2010;3:263-273.
3. MacDonald PE, El-kholy W, Riedel MJ, Salapatek AMF, et. al. The Multiple Actions of GLP-1 on the Process of Glucose-Stimulated Insulin Secretion. Diabetes. Dec 2002, 51 (suppl 3) S434-S442.
4. Sauer N, Reining F, Schulze Zur Wiesch C, Burkhardt T, Aberle J. Off-label antiobesity treatment in patients without diabetes with GLP-1 agonists in clinical practice. Horm Metab Res. 2015 Jul;47(8):560-4.
5. Mehta, A., Marso, S. P., and Neeland, I. J. (2017) Liraglutide for weight management: a critical review of the evidence. Obesity Science & Practice, 3: 3– 14.
6. Jens Juul Holst, Mette Marie Rosenkilde, GIP as a Therapeutic Target in Diabetes and Obesity: Insight From Incretin Co-agonists, The Journal of Clinical Endocrinology & Metabolism, Volume 105, Issue 8, August 2020, Pages e2710–e2716, https://doi.org/10.1210/clinem/dgaa327
7. Gasbjerg LS, Gabe MBN, Hartmann B, Christensen MB, Knop FK, Holst JJ, Rosenkilde MM. Glucose-dependent insulinotropic polypeptide (GIP) receptor antagonists as anti-diabetic agents. Peptides. 2018 Feb;100:173-181.
8. Gasbjerg LS, Christensen MB, Hartmann B, Lanng AR, Sparre-Ulrich AH, Gabe MBN, Dela F, Vilsbøll T, Holst JJ, Rosenkilde MM, Knop FK. GIP(3-30)NH2 is an efficacious GIP receptor antagonist in humans: a randomised, double-blinded, placebo-controlled, crossover study. Diabetologia. 2018 Feb;61(2):413-423.
9. Mathiesen DS, Bagger JI, Bergmann NC, et al. The Effects of Dual GLP-1/GIP Receptor Agonism on Glucagon Secretion-A Review. Int J Mol Sci. 2019;20(17):4092. Published 2019 Aug 22.
10. Min T, Bain SC. The Role of Tirzepatide, Dual GIP and GLP-1 Receptor Agonist, in the Management of Type 2 Diabetes: The SURPASS Clinical Trials. Diabetes Ther. 2021;12(1):143-157.