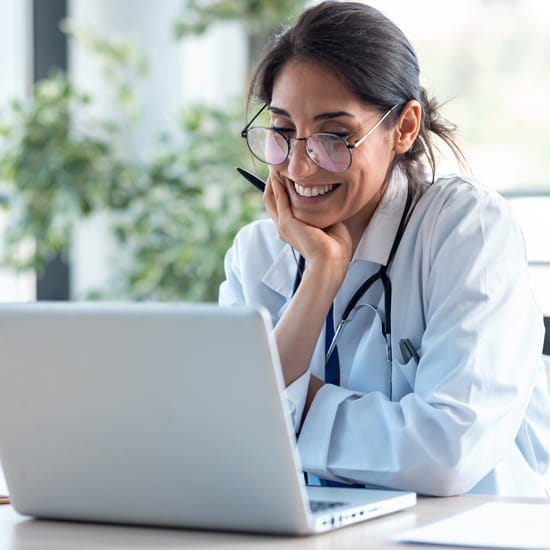 Published August 5, 2021
Published August 5, 2021
Continuing medical education (CME) is a core component of continuous professional development. All medical providers must maintain, develop, and increase their medical knowledge and skills to provide appropriate services to patients, the public, and the medical profession. Providers demonstrate their enhanced knowledge and skills by completing CME activities. In essence, CME facilitates lifelong learning.
---
This post includes information on CME, which encompasses activities offering AMA PRA Category 1 Credit™ and/or ABIM Medical Knowledge MOC Points. For information on Continuing Education (CE), including AANP contact hours and AANP Pharmacology Credit, read our blog post, A Complete Guide to Nurse Practitioner CE.
---
What Types of Activities Are Considered CME?
Often people believe that CME only includes lectures or knowledge-building through slide presentations and videos. However, CME programs also place a large focus on advancing clinician performance and patience outcomes through interactive courses, in addition to knowledge improvement. CME learning styles have evolved to include audience response systems, case-based learning (including spontaneous case conversations), virtual and in-person conferences, mentor or preceptor experiences, problem-based learning, role-playing, simulation exercises, podcasts, and communication skills training. CME also includes hands-on lessons to maintain current procedural skills and learn about new advances for procedural clinicians.
Upon successful completion of an accredited CME activity, participants will be awarded appropriate credit in the form of a certificate. CME credit requirements are different from maintenance of certification (MOC) requirements.
Does CME Help to Improve a Clinician's Knowledge and Competence? Does It Improve Patient Care?
Generally, the time spent on educational modalities and specialty proficiency testing measures a clinician's competence and patient care abilities. However, does CME effectively improve proficiency? In fact, several randomized controlled trials and systematic reviews that evaluate the effectiveness of CME programs show that continuous knowledge testing improves both short and long-term patient clinical outcomes, clinician skills, and physician performance measures1,2. Moreover, when clinicians utilize interactive and diverse learning techniques, such as reading material, skills stations, and video-learning, knowledge retention is enhanced, and the effect of education overall is improved. Additionally, multiple exposures and a longer duration of exposure to the material further enhance knowledge retention and physician performance3. This even holds for procedural-based skills.
Additionally, researchers show that primary care clinicians can learn procedural and physical examination techniques equally through either written or hands-on educational experiences1. Evidence also shows that medical competency is better in clinicians who regularly complete CME activities versus those who do not.
Who Offers CME?
A variety of organizations offer CME, including scientific societies, medical institutions, professional medical bodies, academic centers, and other private companies. To meet appropriate standards in the United States, many CME providers are accredited either by the Accreditation Council for Continuing Medical Education (ACCME), an ACCME-approved state medical society, Joint Accreditation, or through the American Osteopathic Association. Several different types of CME programs are offered since all types of clinicians must complete education requirements during their careers. Each clinician needs to assess their needs and pick activities that meet those needs.
What Entity Decides CME Requirements?
Since the 19th century, each state has had varying licensure and CME requirements. This means that clinicians must obtain separate licenses when they practice in different states. Additionally, each state differs on whether they require specific training on special topics like opioid prescribing practices, ethics, and pediatrics.
Many people feel that the state licensure and CME system can be changed. For example, clinicians who can cross state lines can more easily provide care to underserved US areas. Guidelines and standards for medical training are set at the federal level, but the states administer CME requirements for the sake of state licensure. The military, the Public Health Service, and the Veteran's Administration are the only organizations that maintain federal instead of state CME and licensure obligations.
However, a combination of growing reliance on telemedicine in conjunction with the SARS-CoV-2 pandemic recently resulted in states loosening borders so that physicians can care for patients virtually almost everywhere during the crisis. At the beginning of 2021, many states still have waivers in place, and the list can be viewed here. States have also modified some CME requirements that can be viewed here. The rise in telemedicine nationally might lead to new developments and changes in future CME standards.
How Many Hours of CME Must a Clinician Complete?
The average physician in the United States completes 28 CME credit hours each year4. There is significant variation in these requirements across state lines. Additionally, requirements differ for physicians, physician assistants, and advanced practice registered nurses. For instance, Montana, Indiana, and South Dakota do not have any CME requirements to maintain physician and physician assistant licensure. However, Maine, New Hampshire, and Massachusetts require 50 CME hours each year on average. There is some speculation as to whether the CME requirements impact healthcare quality. However, no one is sure how the number of CME hours affects healthcare quality. The best way to find local CME requirements is to visit your state licensing board's website. The Federation of State Medical Boards also posts CME requirements by state.
Earn AMA PRA Category 1 Credit™ with any of our free online CME courses, or explore our courses that offer Medical Knowledge MOC points for the ABIM MOC program.
Pri-Med has been a trusted CME/CE provider for 25+ years, offering accessible online and in-person education to primary care clinicians across the US. Now more than ever, it is critical that you have access to timely and reliable information to help you provide the best patient care. Explore our CME/CE at Pri-Med.com.
References
1. Cervero RM, Gaines JK. The impact of CME on physician performance and patient health outcomes: an updated synthesis of systematic reviews. J Contin Educ Health Prof. 2015 Spring;35(2):131-8.
2. Ahmed K, Wang TT, Ashrafian H, Layer GT, Darzi A, Athanasiou T. The effectiveness of continuing medical education for specialist recertification. Can Urol Assoc J. 2013;7(7-8):266-272.
3. Phillips JL, Heneka N, Bhattarai P, Fraser C, Shaw T. Effectiveness of the spaced education pedagogy for clinicians' continuing professional development: a systematic review. Med Educ. 2019 Sep;53(9):886-902.
4. Continuing Education Journal. Why Are There Different CME Requirements in Each State? Accessed Jan 8, 2021. https://aceaglobal.com/continuing-education-journal/continuing-education/why-are-there-different-cme-requirements-in-each-state/.