Technology and Joy in the Practice of Medicine
Description
While technology promised to make clinicians more productive, it often has the opposite effect. It doesn't have to be this way. If we reimagine healthcare to be about communication (and not documentation!), we can redesign our practice to maximize quality time with patients and quality interactions with colleagues. Doing so allows us to focus more on the connections which represent the sources of joy and satisfaction that drew us to the practice of medicine. New technologies like Google Glass and embedded sensors, as well as ubiquitous technologies like secure messaging, can be creatively utilized to fundamentally change our professional experience.
Learning Objectives
Understand the rapidly changing role of technology in the practice of medicine and communication among members of healthcare team.
Identify one process in your current practice which can be improved by changing the way the practice team communicates about the process.
Incorporate into your practice a feedback channel from patients which serves to inspire and motivate the practice team.
---
Speakers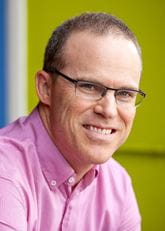 Roni Zeiger, former Chief Health Strategist at Google, works at the cutting edge of technology, healthcare and user-centered design. At Google, he developed innovative digital medical services like online medical records, Google Flu Trends, and Sympt...