Addiction Medicine Express
10:50 AM - 11:50 AM
Room 1, Level 1
Description
This session offers a "state-of-the-art" review of 2018 Addiction Medicine in the context of our current understanding of the addictive process. We will study how neurobiology approaches craving and control, and how these novel concepts inform our treatment options, both pharmacological and psychosocial.
Learning Objectives
Apply neurobiological concepts to treat patients who suffer from substance use disorders
Identify intoxication and withdrawal syndromes of alcohol, opioids, and sedatives
List three psychosocial and three pharmacological interventions in the treatment of addiction
---
Syllabus
Download a PDF of the presented slides.
DOWNLOAD
Speakers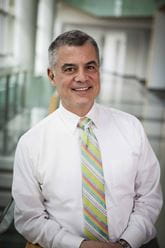 Petros Levounis, MD, MA, is professor and chair of the Department of Psychiatry at Rutgers New Jersey Medical School and chief of service at University Hospital in Newark, New Jersey. Dr. Levounis came to Rutgers from Columbia University, where he se...