Evaluation and Management of Osteoporosis
Description
This talk will cover the basics from screening to treatment of osteoporosis with emphasis on the new ACP guidelines on the treatment for osteoporosis. There will be a discussion on nonpharmacologic approach to prevent bone loss and the different pharmacologic agents used to treat osteoporosis. Given the emergence of rare but serious side effects from drugs used to treat osteoporosis, a discussion on when to consider a drug holiday among those who have been on treatment for a longer period of time will also be included.
Learning Objectives
Understand the guidelines on the screening, treatment and monitoring of patients with osteoporosis with emphasis on the recently published ACP guidelines
Understand the controversies on long-term treatment for osteoporosis and the role of drug holiday
---
Syllabus
Download a PDF of the presented slides.
DOWNLOAD
Speakers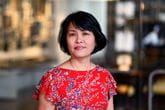 Dr. Villareal graduated from Cebu Institute of Medicine, in the Philippines; finished her residency in Internal Medicine at Texas Tech University, Amarillo, Texas and fellowship in Endocrinology at Washington University School of Medicine School of M...