LGBTQ Mental Health: From Closets to Communities
Description
In this informative session, the speaker will help clinicians build better understandings with their patients and discuss how to make the office a more welcoming environment. Participants will walk away with culturally-informed and -sensitive approaches to counseling and an enhanced comprehension of the unique mental health problems faced by the LGBTQ population.
Learning Objectives
Create a welcoming environment for LGBTQ patients
Identify unique mental health problems in LGBTQ populations
Provide culturally-informed and culturally-sensitive counseling to LGBTQ patients
---
Syllabus
Download a PDF of presented Slides.
DOWNLOAD
Speakers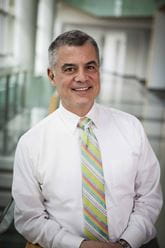 Petros Levounis, MD, MA, is professor and chair of the Department of Psychiatry at Rutgers New Jersey Medical School and chief of service at University Hospital in Newark, New Jersey. Dr. Levounis came to Rutgers from Columbia University, where he se...