Cumulative Dose of Oral Steroids Associated With HTN Incidence
Incidence of hypertension higher for adults on oral steroids for any of six chronic inflammatory diseases
March 24, 2020

(Last Updated)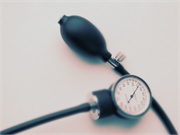 MONDAY, March 23, 2020 (HealthDay News) -- For adults with any of six chronic inflammatory diseases, a cumulative dose of oral glucocorticoids is associated with an increased incidence of hypertension, according to a study published online March 23 in CMAJ, the journal of the Canadian Medical Association.
Teumzghi F. Mebrahtu, Ph.D., from the University of Leeds in the United Kingdom, and colleagues analyzed electronic health records from 389 practices during 1998 to 2017 for adults diagnosed with any of six chronic inflammatory diseases and with no history of hypertension. The effect of oral glucocorticoids on the incidence of hypertension was examined.
The researchers found that during a median follow-up of 6.6 years, 34.8 percent of the 71,642 patients in the cohort developed hypertension. Hypertension had an incidence rate of 46.7 per 1,000 person-years. With a higher cumulative glucocorticoid prednisolone-equivalent dose, the incidence rates increased, from 44.4 to 45.3 to 49.3 to 55.6 per 1,000 person-years in periods of nonuse versus periods with >0.0 to 959.9 mg, 960 to 3,054.9 mg, and ≥3,055 mg, respectively (hazard ratios, 1.14, 1.20, and 1.30, respectively). For the six diseases studied, cumulative effects were seen, but the dose-response effects were not observed for daily dose.
"We suggest that blood pressure be closely monitored for early identification and management of hypertension in patients with diseases treated with long-term glucocorticoids," the authors write. "Given that glucocorticoids are widely prescribed, the associated health burden could be high."
One author disclosed financial ties to the pharmaceutical industry.