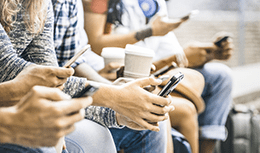 Podcast
Technology: Tetris Improves Flow lowers Stress; Social Media Increases Depression & Loneliness - Frankly Speaking EP 102Guest: Alan Ehrlich MD
Music Credit: Richard Onorato
This podcast will explore the results of 3 recent studies that evaluate how the "state of flow" or mental absorption (also called being "in the zone") alters a person's ability to handle stress and how intentional use of distractions affect emotions. Discussion will include how the use of technology, including video games and social media websites like Facebook, Twitter and Instagram, can affect emotional states and whether these types of distractions are beneficial or counterproductive during stressful times.
Begin
Already listened on another platform?
CME/CE Information
0 Credits - Not for CME/CE Credit
Release Date: 4/10/2019
Expiration Date: 4/10/2021
Topics
Learning Objectives
Learn how research on distractions from some forms of technology may induce the state of flow and improve your mood and those that do not induce flow may hurt it
Appreciate how engaging with technology can require self-regulation to provide a benefit
Gain insight into the detrimental aspects of social media.
Supporters and Partners
Commercial Supporter
Not Applicable
Education Partner
Not Applicable
Technology: Tetris Improves Flow lowers Stress; Social Media Increases Depression & Loneliness - Frankly Speaking EP 102