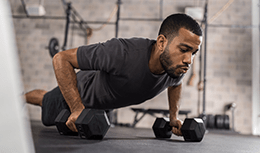 Podcast
Push-Ups: No-Cost Assessment of Future CV Risk? - Frankly Speaking EP 116Guest: Jill Terrien PhD, ANP-BC
Music Credit: Richard Onorato
Join us as we discuss a recent study of push-up capacity in middle-aged men and the association with CVD risk.
Begin
Already listened on another platform?
CME/CE Information
0 Credits - Not for CME/CE Credit
Release Date: 4/15/2019
Expiration Date: 4/15/2021
Topics
Learning Objectives
Understand the association of fitness and CVD risk
Describe a recent cohort study that associates push-up capacity with future CVD events.
Integrate recent study results into clinical practice.
Supporters and Partners
Commercial Supporter
Not Applicable
Education Partner
Not Applicable
Push-Ups: No-Cost Assessment of Future CV Risk? - Frankly Speaking EP 116